Clapotis!!!!
OK. After my clapotis marathon on Saturday, which ended @ 2:30 Sunday morning. We have 1 completed clapper!!!! Yeah! After the problems i had with this darn thing, i had real doubts as to whether it would get finished..I muffed up on one of my repeats, so i had to tweak one of the drop rows so that it would work...had to rip back 8 rows tofix the mistake, though. Then, I had to do more tweaking when i realized that i wasn't going to get the 12 repeats of the straight rows done. Ended up figuring I could do 10 repeats & still have enough of the last skein...yeah, i had 2 feet of yarn leftover when i finished! Man, was i sweating that last ball...to the bitter end. If i had gotten to the end of the ball & found out i was going to have to rip back to the start of it, i think i would have had to put it down for a good long time...after crying. Luckily that didn't happen. Anyway, here's a picture of the FO...the color sucks, but i'll try again in the daylight...if we ever get any. The Puget Sound is finally getting its winter weather (clouds & rain).


So, before i had even finished the first one, i ordered more Lion & Lamb for Clapotis #2! Here is what i've done so far...the color is Iris Garden & again, it's not showing up very well. I'll try again.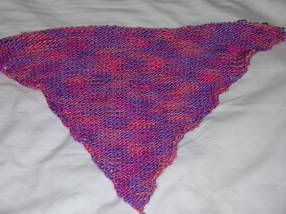 Anyway, i'm not sure if this is going to remain a clapotis. the colors are gorgeous...pink, purple & a lighter pink, almost salmony color. BUT, my fear is that it's going to look too Easter egg-ish. i'm going to work it through the first dropped row & see if that helps, but it may end up being ripped out & become something else. it did occur to me, today, that Koigu would look really nice in this. I'm taking Friday off work, so i may have to make a trip to my LYS & see what they have that inspires me.
I'm planning my Flash a Stash pictures for the Flash Your Stash Along on 4/1! I think i'll take a picture of everything together & then split it up by sock yarn...then colors...blues, greens, pinks, etc. I can't wait to see how big everyone's stashes are. I'm hoping they make me feel better about the size of mine!
In other news, i broke down & got an iPod Mini, tonight. It's a cute little silver one, but doesn't have a name,yet. Any ideas?
So, have to get him filled up with music, although that may have to wait until tomorrow as I want to get some knitting in tonight & all my shows are on...Lost, America's Next Top Model & Alias. I know, Lost & Top Model are on at the same time, so i flip back & forth between the 2.
So, there's the update i've been promising to make, & i'm resolving to be better about posting updates...honest!
nighty night.