So, I got home from Yarn Yoga, Friday, and decided that i had had enough of Ruffles. It's now been cast off for bigger & better things. I just have TOO many projects that I REALLY want to be working on.

Anyways, since i got my yarn order from Woolneedlework.com on Saturday I figured I'd stop fighting temptation & CO for Lady Eleanor...ah! Lady Eleanor how i love thee. It was a rock start...like mountainous terrain, rocky, with MANY MANY restarts, but i finally have the hang of it & i'm cruising right along. This is how much I got done on Sunday.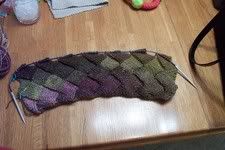 I'm a bit farther along, now, but no update pictures. Anyway, I'm liking it so much that i'm planning on making one for my brothers girlfriend for Christmas...just have to find a great yarn for hers, now. OH! Also, i finally got my PR today & it wasn't anything I wasn't expecting. "You're doing great in your job, but you need to work on your attitude. You just don't act the same as you used to & "we" need to get you back to the kind of employee you used to be..." Oh, and by the way, here's your raise & your bonus, keep up the good work! ?????? Honestly, now that i have my bonus I'm so starting to look for a new job. Hopefully closer to home as the commute is completely sucking!!!!!! There's a LYS expedition planned for Saturday, and I'm so looking forward to it. Myself & a friend from work are going to go out & make really big dents in the bonuses that we're getting on Friday. We're going to go find out about this knitting cruise that one of the LYS's is advertising...A knitting cruise through the Baltic for 10 days!!!! More on that after the weekend.

Later!!!!!