Yarn, Yarn & more yarn!!!!!
Well, this week seems to have been a good week for me...at least so far as getting yarn. Below we have the amazing goodies that were delivered to Moi, throughout the week!!!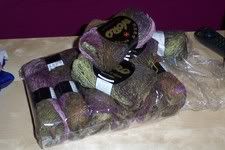 } ?>Here we have the FABULOUS Noro Silk Garden that I got such a great deal on. And bery quick delivery, too. This is going to become a fabulous Lady Eleanor shawl from Scarf Style. I CO for it today & I've gotten through the 2 tiers once...I'm LOVING it so far. More on that, later, though.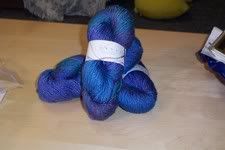 } ?>
And here is the uber beautiful Lorna's Laces that I got to make clapotis out of. OMG! It's so soft & luxurious...I can't wait to get started!!!!!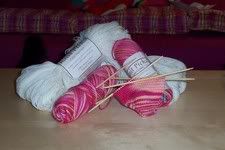 } ?>
Last but certainly not least we have my much anticipated 1st order from Knit Picks!!!! I got Sock Garden in Star Gazer Lily (you can see the start of my sock, in front). I LOVE this sock yarn. I already have another order planned soon. Also, i have 2 lovely skeins of dyeable merino from them. I'm going to try my hand at Kool-Aid coloring soon & can't wait!!!!!