Hi. My name is Denise....
...And I'm a Yarnaholic.
See for yourself. I'm flashing my stash for April Fool's Day
Here is a bunch of really nice Colinette for you to puruse...it's the Ab Fab kit in Rhapsody in Blue.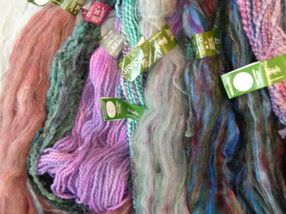 And here is some random yarn that was still in a plastic bag...a little mohair mixed in there.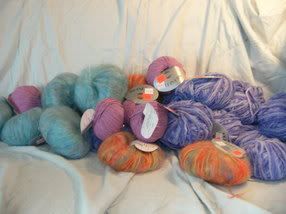 This is my sock yarn stash...i'm seriously addicted to it...especially that KnitPicks stuff!

Last but not least...this is my BIG stash. There's a bit of Lamb's Pride. Some Noro...Manos Del Uruguay and then some Lion Brand...I'm really not picky. =)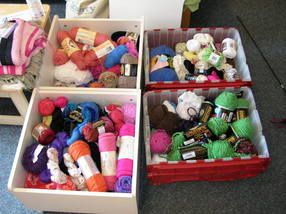 Well, that's most everything i could find. i do have more, but the rest of my stash is for WIP's, so i have them separate. I took pictures, but i'll have to post them later. I need to get something to eat & then get my stuff together for Yarn Yoga, tonight. Can't wait to check out everyone else's stashes.