New Stuff
This has been one of my crappy weekends. =(
Not sure what set me off, but i've been really bummed most of the weekend. I couldn't even knit! I'm not sure about anyone else, but sometimes i'll get into such a funk that I can't even make myself do anything. It completely SUCKS, but there you go. Anyway, this was one of those weekends. Saturday night, i finally decided that i needed to get out of the house, so i thought i'd head to Pacific Fabric & see if they had any yarn that wanted to come home. I'm also trying to find a purse/bag pattern to use for this way cute fabric i got a while back. anyway, after practically getting kicked out, 'cause they were closing (my fault) i ended up with this...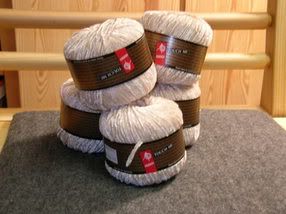 Muench Touch Me...yeah, it's true. I think i've found the worlds most fabulously soft yarn EVER! It's fabulous! This is destined to become the Vintage Velvet scarf out of Scarf Style, for my Mom. I'm hoping to get it done in time for Mother's Day. I actually started it, today & even though i wasn't very motivated to do anything, again, I've managed to do 2 1/2 repeats. It's looking gorgeous, so far. I'll get a more done, before posting any pic's.

Anyway, i also picked up this...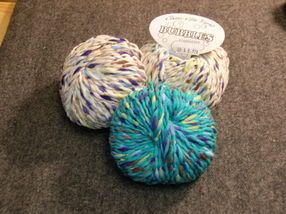 3 balls of something called Bubbles. It's so fun & cheerful, i just couldn't pass it up. I'm thinking it'll become a hat for next winter...i know...i know. it's spring, but i couldn't pass it up & i really think it's too heavy/bulky for anything this time of year.
Oh! I got this great idea this weekend for a first project for me to try to design, myself. I'm not sure how well it will go, but i have some great cotton stria from Manos del Uruguay, in great spring colors, that i want to use so bad. so, i'm going to try to come up with a great little hat for myself. i haven't really made a lot of hats, or had good luck with them, but i'm inspired, so i'm going to give it my best shot. i'll just have to read up on some basic hat shaping, so i have an idea of what i'm doing, but i can kind of see it in my head. i need to sketch it out, so i have something to work off of. if it works out & i actually get it done, i'll be sure to post pic's.
Anyway, that's it for now, i'm sure i'll be up until about 1, again tonight, since it is a sunday...i can never get to sleep at a decent time on Sunday's.