Stuff, Stuff & more stuff
So, since it's been so long since anyone has seen the "kids" i thought i would take some pic's & show them off.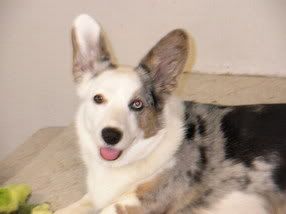 Here we have the "smiling" Paris Frances. She was having a blast chewing the living daylights out of the poor frog!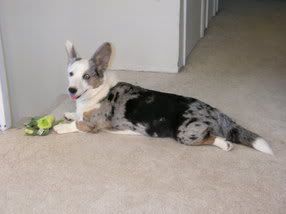 I call this her "Super Dog" pose. She hasn't been told yet that she's no longer going to be spying on my Secret Pal for me. There was an incident with a shallow hole and a failed mission that she's still trying to deal with and I just haven't been able to break it to her, yet. =) Luckily Quinlan & Darby, a.k.a Frick and Frack, where able to find her & rescue her from certain death due to extreme embarassment.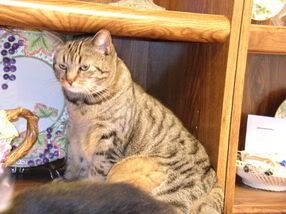 Quinlan, a.k.a Frick. She's got a really mean look on her face here...I think it was just the flash that caused it.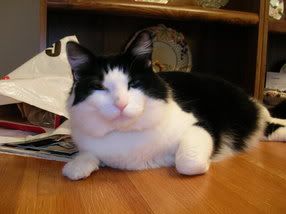 Darby, a.k.a. Frack. He's a master at spying due in large part to his ability to make everyone believe he's sleeping. In reality, he's so finely tuned to his surroundings that he doesn't even waste his time with "looking around"...although, maybe he is really asleep? *shrug*
And now...May i have a drum roll please?!
That's right ladies and gentleman! Feast your eyes on the magical alure of the one, the only, the most gorgeous specimen of knitting greatness ever to be seen by man...
LADY ELEANOR!!!!!!!!!!!
TA DA....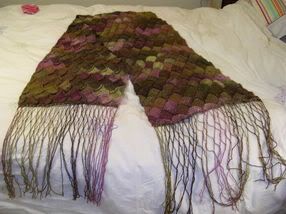 Yup, I finally finished it & even got the fringe put on. Unfortunately I haven't been able to get any decent pictures of it on my person, but i'm hoping to get a good one sometime this weekend. Stay tuned.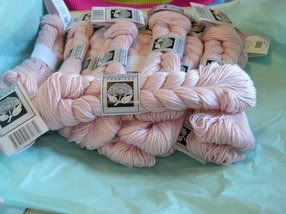 And here we have the obligatory yarn pOrn shot. Yes, that's right. Here we have the lovely Classic Elite Premiere. A yummy Pima/Tencel yarn in a beautiful shade of pale pink. Premiere is "deliciously soft", offers great stitch definition and is equally suited for either the office or any of those special occasions. Premiere's Tencel heritage has helped make it the environmentally friendly fiber that it is today. And as we all know, Pima is the world's finest cotton. Premiere also enjoys long walks on the beach & snuggling with dogs and cats. =)
Ok, sorry for that. I just couldn't help myself. Seriously, though, this is some of the softest yarn, which is why i got it to make Spring Fling out of.