A Weekend of Stash enhancement
First I just have to say, that i'm really mad, right now. I JUST got done with this entry & had posted it to my blog...well, thought i had anyway, go to my blog to add some links & WHAT THE??? No blog entry. Somehow it got lost along the way. So, if you see this exact entry somewhere will you tell it where it should have gone? Thanks.
Anyway, the shorter version. Here we have some lovely Lamb's Pride Bulky in Kiwi & Tiger Lily. They're meant to join a brighter orange and pink to make the laptop bag from SnB Nation. I swatched for it & I may have to make it with smaller needles & NOT felt it. I really like the herringbone pattern & don't want to lose it in the felting process. Anyway, this goes in the stash as i'm not quite ready for that project yet.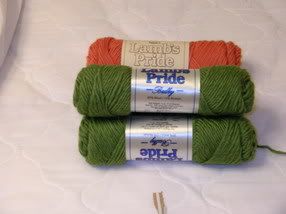 Here we have the wonderful-ness that is my new MP3 player. It's a Zen Micro in a way cute pink. there's a whole story here, but the short version is that i got an iPod Mini, hate the scroll wheel thingy. heard about this one on The End for a couple of weeks, read up on it & decided that i had to have it. Well, i got it on Friday & within minutes i was using it with no problems. Not only will it hold 2500 songs, but I can get FM radio on it AND I can even record the radio on it!!!! Besides that, i got it for $218+shipping from here. Still cheaper than the iPod. Now i just have to find a home for that...Anyone needing/wanting a "like new" iPod Mini in silver?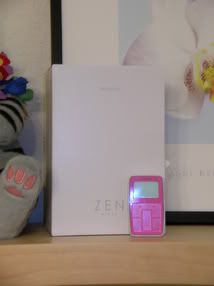 Here is what i got at the Seattle Fiber Arts Expo on Saturday. Some fabulous handmade rosewood needles for $10!!! Artyarns supermerino in a wonderful purple for a birthday present. and 3 HUGE skeins (650 yds. each) of a hand painted, machine washable merino. i'm thinking a clapotis scarf out of one of the skeins...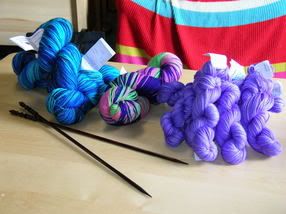 Close-up pics...still not very good. The sun was actually streaming through the window!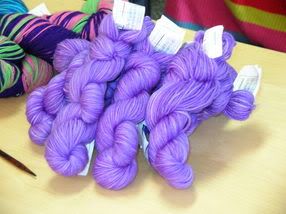 Yummy, Yummy!!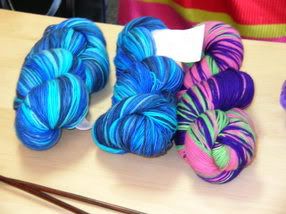 $10???!!!!!! I know!!! They weren't perfect, somehow, so she only wanted $10 instead of the usual $60 for them. How can you possible pass that up?!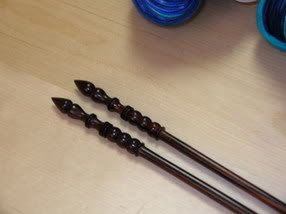 And here we have a progress report on the entrelac wrap. I love this. I truly, truly do. By now, i'm about 1/2 done with it and can't wait for the end. someone at Yarn Yoga on Friday had an interesting idea for the fringe...Ben's has a ribbon yarn(?) that is almost the exact same colors as the Noro I'm using. So, when i'm finished with this, i'm going to have to take it with me & see if i want to do the fringe in that instead of the Noro.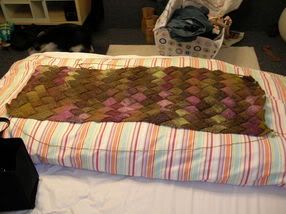 WOW! I really condensed this down from the original version. I still have more to add, but need to get some work done on Mom's Day gift & B-day gift, so that will have to wait.
Later