What's that? A package...for me?
That's right! I got my very first package from my SP, today. First of all, i have to say how much i LOVED the e-card that she sent me. It was hi-larious!!
So, this is what was in the kitty litter box that came for me...that's right. a kitty litter box.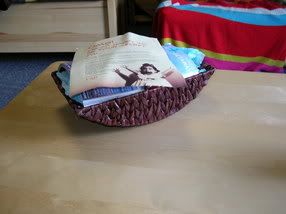 A lovely basket with as yet unknow goodies waiting to be freed.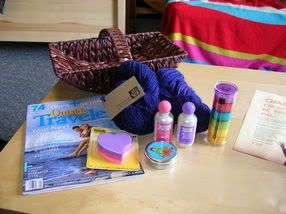 <GASP> Look at my precious-es!!! A travel magazine, some cute heart post-its, hand cream, votives & wool wash...Oh, yeah. Did i forget to mention those 2 skeins of Manos del Uruguay in a really gorgeous purple? I think it's looking more blue in this pic, but it's a purple for sure.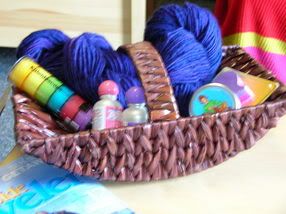 Here it all is in the great basket it came in. I'll be using that in my bathroom, i think. It'll hold all of my "stuff" wonderfully.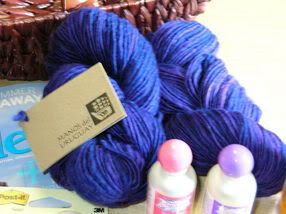 And her of course, we have a close-up of the yummy yarn. I can't wait to find a pattern to use it on.
So, thank you, thank you my SP. You hit a home run with this package.