Yummy! Yummy! Yummy!
Okay. Not sure what's up, but I just got the biggest craving for some of these....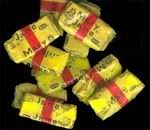 Yes, Mary Jane's. I can't ever seem to find them when i really want them, like now. Mmmmm Mary Jane's...must have them....yummy, yummy! I must have them. Will have to go searching after work, tonight.