I'm Back.....
So, a while back i said i would post a pic of my progress on the x-stitch picture. Well, this is the only pic I have right now, but i've actually gotten more done on it than this shows.


And now we have some knitting content. That's right. I've released myself from my self imposed exile from knitting to work on a couple of things.
First, we have a baby blanket that I'm working on for a friend who's having her second baby in November. Luckily she doesn't read this, so no spoiling the surprise. It's an entrelac blanket. I decided to use Red Heart Kids for it. I wanted it to be washable & durable for many years to come. I decided on entrelac, 1) because I really like doing it & 2) because it will be a really unique gift. even if others make her baby stuff, what are the chances she'll get another entrelac blankie? I found out yesterday that another friend is pregnant, so guess what she'll be getting for her shower? That's right! Another entrelac blankie. I'm also going to make both babies some kind of clothing...a sweater or hat & booties


The color is called Happy, and i have to say that it does make me feel that way when i look at it. Not sure if the pictures are doing it justice, but it's this great, vibrant orange, red, yellow & magenta-ish color. I would have gotten it to make a throw for myself if the store had had enough.


Instead, I ended up getting this for myself....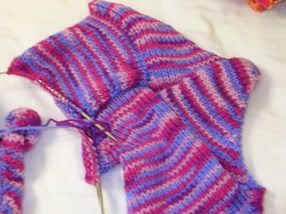 Same Red Heart Kids, but this color is called Dream Girl. It's pink, purple, periwinkle & lavendar. I'm also doing it in entrelac...the hope is that will keep me involved enough to actually finish it, since it's not just stockinette or garter stitch. This one is going to be HUGE...I've only finished the first row of full "squares" and it's mighty big. I'm not worried, though. I've got tons of yarn & if it gets too out of hand, i'll just make it into a blanket for my bed. You can NEVER have too many blankets or throws.
So, anyway, that's all i've been up to on the knitting front...well, I actually sat down & started Spring Fling...got the back done, looked at it & decided i really did not want to be working on it. so, that's been set aside. maybe i'll pick it back up again...someday.
Other than that, work has been lousy. My manager is giving me fits. It's gotten so bad that I've started looking for a new job. not sure what i really want to be doing, but at this point I really just want to get out of where I am. preferable something closer to home, since i hate the commute from Edmonds to Redmond so bad.