Ok. So I couldn't for the life of me come up with a stupid title for this post, since it has so much in it. *shrug* What can you do?
Anyway, I've been meaning to post for ages & I just haven't gotten around to it until now. So, beware! There is going to be a lot here...
I guess we'll start with the cute animal pic's first. I love my "kids", really I do. BUT, I love them the bestest at times like these....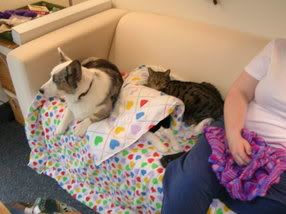 Yes, that's Darby under the blanket, with Quinlan laying on top & Paris right next to them, looking out the window.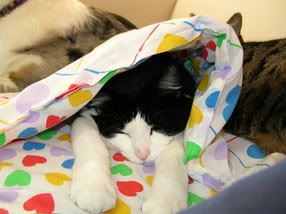 Isn't this just the CUTEST!!!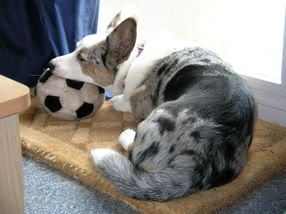 Just a little tired...
It just doesn't get much better than this. Although, it would be nice if the couch were a little bigger.
That same day I got a much anticipated package from my
SP
...I know, I know! That was a week and 1/2 ago...I sent her a Thank You...but now everyone can spy the FABULOUS LOVELIES that I received. THANK YOU AGAIN MY SUPER DUPER SECRET PAL!!!!!!!!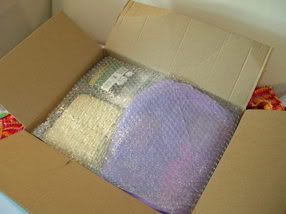 oh my! what ever could be inside of here?!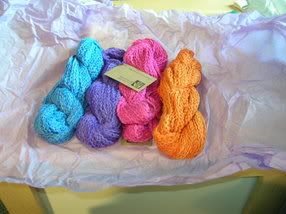 *GASP* Manos del Uruguay cotton stria!!!!! I LOVE this stuff. and just look at the lush colors
I definitely need some ideas of what to make with this!!! anyone...anyone?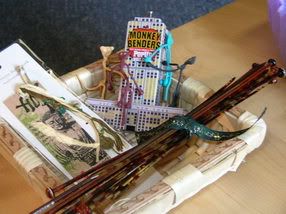 And last but definitely not least...the basket of goodies. there is a tower of magnetic monkey's (those immediately went to work), a gorgeous bookmark, and my favorite gift of all...tortuise shell knitting needles. OK, so they aren't real tortuise shell, but i've been wanting some of these FOREVER, so i was quite stoked when i saw them in my package. They've been well loved to...some of them are warped, which makes me like them even better!
Are you tired yet? Well, don't give up on me yet. There's still more to be seen & talked about.
I told you this was a long one.
So, I finally finished baby present #1. This is the entrelac baby blanket I did using Red Heart Kids in HAPPY. I just have to decide whether or not I want to add tassels or something else to it.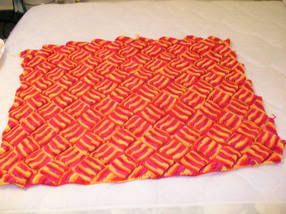 After finishing baby present #1 & while i'm waiting to hear what baby #2 will be, I decided to cast-on for my friend's Charlotte's Web shawl. She bought all of the yarn & the pattern and I offered to make it for her. It's my first go at lace.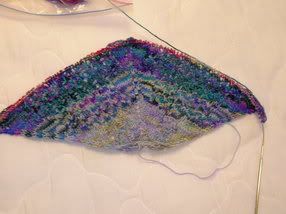 This is my progress, so far....I had to rip it out A LOT before I finally got it.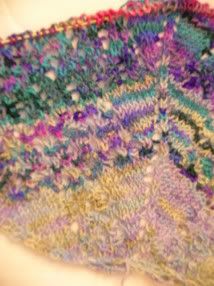 Here's a closer look at the colors.
This past weekend, I just had to get out of the house, so I headed to
Great Yarns
to try to find some Koigu for myself. I've been wanting to make
Branching Out
, but i'm so not into mohair/kidsilk haze, so I decided Koigu should work well. Unfortunately, I didn't find anything that i LOVED, but i found a nice pink, so I got 2 skeins of it to use.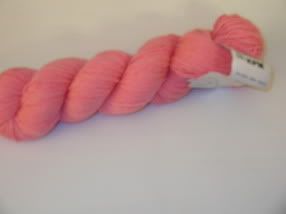 I also got some INOX needles to use with it, after reading someone's review about them being similar to Addis, but not as slippery. I do like them, but they haven't gotten much use. I cast on for Branching Out, but had to rip it out after I made some mistake with the 2nd pattern repeat. Trust me, it was just easier to rip it out.
Well, that's it. Congratulations on making it to the end. I know there was a lot this time. I'm really hoping to be better at posting. Although, we'll see how long that lasts. I'm going back to school at the end of August, so I don't think there will be much knitting after that. BUT, more on that later.