Show And Tell
So, I meant to post this last night, but was having problems with my photo host, so....
Here is my most recent Ebay purchase
and the other side
and the way cute fabric that is the inside pocket
Yes, it's a Kate Spade. I LOVE IT!!! I will love it for years to come. It's really just the perfect summer purse, AND....I got it for under $100!!!!!
This is my current project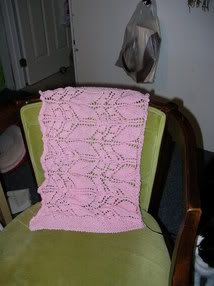 closeup
It's the Viennese Shrug from the Summer 05 Interweave Knits. I'm making it to go with this
which I've had for a while now, but due to arm issues, can't wear without some kind of cardigan or something to go over it. I tried making Spring Fling to go over it, but really wasn't happy with how that was turning out and retired it. So the shirt has been sitting in the closet waiting for a friend so it could see the world. The pictures above are just before it was joined in the round to finish the sleeves. I'm about 1/2 done with the first sleeve which I should finish tonight or tomorrow night. Then I pick up stitches & get working on the second 1/2.
Last but certainly not least, I came home on Tuesday to find this waiting for me...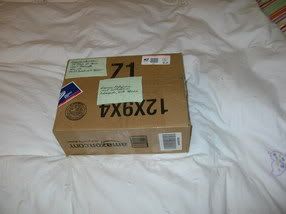 Yup, that's my last package from my Secret Pal. Check out the goodies that I found inside
There's an Anarchist Knitter book, goodies to eat, lavendar stress ball, black sheep tape measure, ginger soap and the most interesting *yarn* I've yet to run across. It's a linen that's been treated with viscose. When i first saw it, i thought that I had gotten a great big bundle of raffia. hehehe...I was like, Ok, that's cool...why is my pal sending me raffia? However, once I got to the bottom of the basket I found the pattern for the water bottle holder which used said *yarn*. Very cool indeed. Definitely going to have to share that with the Yarn Yoga ladies.
The craziest thing, though, is that my Pal is local. She works at Main Street Yarns???? in Mill Creek. I've even talked to her before on a previous trip. So tricky!!! Marcia, Thanks again. I'll definitely be stopping by sometime to personally say Thanks & see what's going on. You really know how to treat a fellow knitter.
I've still only got 1 thing for the final package for my Secret Pal. I really need to get working on that so I can get it sent off by the end of the month. I just need to figure out what I want to get for her...
Having said all of this, and having had such a great Pal I have to say that I don't think I'll be participating in any more of these Secret Pal exchanges. No bad experiences had, it's just that with school starting at the end of August & moving into the Holiday's, not to mention trying to pay off bills & saving $$ for a house, there's just not much leftover for anything else.
Guess I should get to work, now. Ta-ta