Major Yarn POrn!!!!!
So, before I show off everything that I got this weekend, I just want to ask all of you to keep your fingers crossed for my Mom. Apparently she went in to work this morning & they told her she was being laid off. No warning...nothing. So, now she has to start looking for a job. I'm very upset for her.
So, not to make light of that, but this weekend, a friend, Devon, and I went to check out the going out of business/new owners SALE at Skeins, Ltd....Soon to be Hilltop-East. So, I have to say, I wasn't really expecting much. Maybe a few really good sales and them some 20 & 30% off stuff....Oh my ever loving GOD was I wrong!!!!!!! EVERYTHING in the store was on sale. And not just on sale, but on clearance. Like everything I got was at least 40% off and some was even 50% off!!!!!! WOHOOOOOOO!!!!
Devon and I met up at 9:30 and headed straight for the shop. Lord am i glad we didn't go any later. When we got there, there was a good size crowd. Still manageable, but not much space to walk around the really popular yarn. ***NOTE TO SELF*** Next time you go to a LYS sale, take a small purse, or just your card & license. The purse I had was just WAY too big.
Anyway, we walked in the store & were met by a table packed with yarn. Even the space under the table was packed...all the yarn was 50% off! Oh yeah, baby!!! Picked up a great orange-ish yarn. Moved on to the next area and actually managed to find a linen blend that I needed for THIS. The Fern lace twin set.
Now, by this time, and we hadn't been there long, the shop was really starting to fill up and it was getting harder to move around. Anyway, I made a bee-line for the back wall when i saw the sign announcing that ALL needles were 40% off. So, I got 4 more sizes of Addi's, all 47" long, for about $9, each...not total!!!!
Then I hit the *wool* area...found some great scarf makings. At this point, the shop is absolutely, insanely packed. Women running into each other, etc. BUT, i do have to say that I'm so proud of the ladies that showed up for the sale. There were no altercations, that I could see. Everyone seemed to be on their best behavior and there was much please/thank you, excuse me being passed around. I mention this, because I made the 45 minute wait in line to pay, that much more bearable. Mind you, I heard that at one point on Saturday they had a line of something like 3 hours, with people waiting to get into the store.....!!!!! So glad I missed that. I think I would have had to leave.
Anyway, enough chatter, let's get on to the pOrn!!!!!!!!!!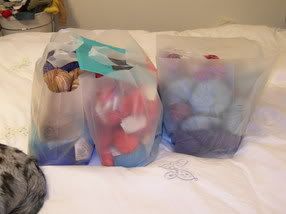 'Scuse the dog butt...This is what I came home with.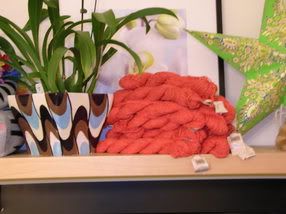 20 skeins of Rowan Summer Tweed...got it for 50% off!!! This is what i want to make this sweater.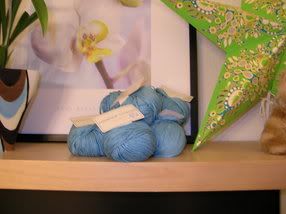 This is some luscious Adrienne Vittadini Allegra in just the most gorgeous bright silvery blue.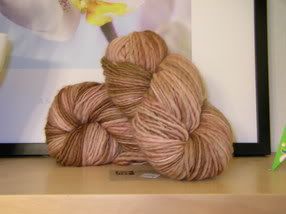 Manos del Uruguay wool, color #42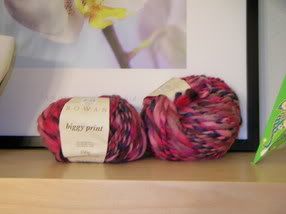 Rowan biggy print, shade 246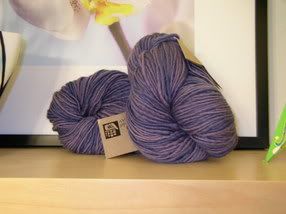 More Manos...color #62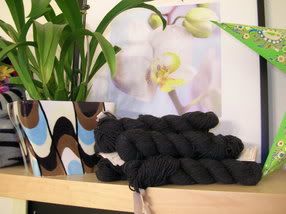 Rowan dk tweed in a heathery black


2 gorgeous rag yarns by Maggi knits Irisk MK collection...I just couldn't pass them up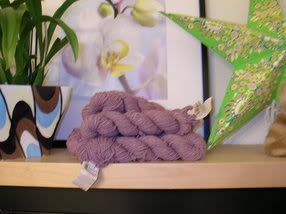 More Rowan dk tweed, heathery pink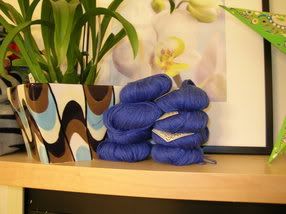 Cotton/linen blend by Maggi knits. A gorgeous dark electric blue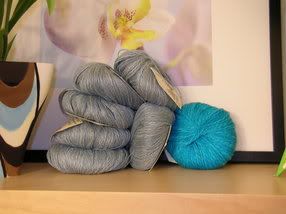 And the last of it...more linen/cotton. This is one lone skein of a turquoise. I just couldn't leave him there all alone. And, the silvery blue linen I got to make THIS with.
So, um, yeah. There was much shopping, I also got a really great lace shawl pattern. Devon and i then went to a local Starbucks & had iced coffees & knit/crochetted for a couple of hours to regain our energy. It was great fun, i must say!!!! I'm also really pleased with myself, because almost everything i got was for specific projects in mind. Not just mindless must have this must have that shopping. Now i just have to find the time to work on it all...hehehehehe
CHEERS!