Road Trip
WARNING! This is a LONG post with a lot of pictures...read on...
So, a couple of weeks ago I was faced with 3 days off from work with no plans & nothing to do. I spent 1 day running around with my Mom spending some quality time. She's been laid off for a couple of months, now. Anyway, at the last minute I decided I wanted to get out of town for a couple of days & thought heading to the San Juan Islands would be good...yeah, in the middle of summer...HUGE tourist stop, and I wanted to spend a night there. Riiiiiight. Luckily, I found a hotel that had a last minute cancellation & I was able to sneak in. Sooooo, bright & early on a day off, there I am getting my butt out of bed, loading up the car & heading north. Had to drive up to Anacortes to catch the ferry out to the islands. Thank GOD Anacortes had a Starbucks. After the detour for much needed caffeine I was at the ferry terminal waiting to leave. I think I ended up waiting a bit more than an hour for the next one.
Anyway, we got loaded up and on our way. Meanwhile, i made myself comfy with my Manos scarf & passed the hour long ride knitting away & listening to the KnitCast with Amy from Knitty.
Here's a pic from my car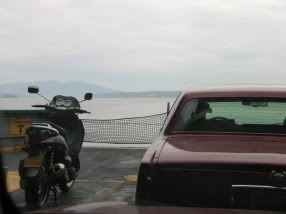 Pretty, huh?
Here's some of the lovely scenery we passed on the way
And this is the view out of the back of the ferry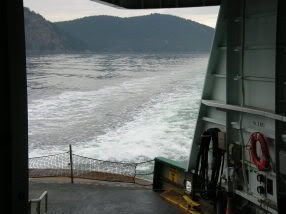 So, finally got to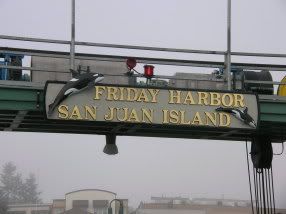 WAY too early to check into the hotel, so off I headed to do some exploring. I found Lime Kiln State Park & wasted some time there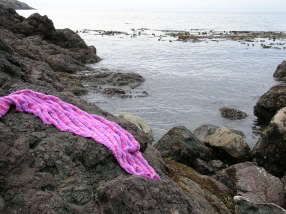 The clapotis had a lovely time, too. She really enjoyed getting to see the sights & even relaxed a bit on the rocks.
After not seeing any whales I decided to try to find the lavendar farm on the island. I'd heard it was a great place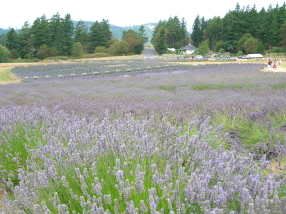 Bee-u-tiful. Speaking of bee's...all you could hear around the field was the buzz-buzz-buzzing of said bees. Then I hit the gift shop & bought some lavendar loveliness.
After that I drove around for a bit then headed into town for some window shopping...of course, I also managed to find a really great yarn store during my wanderings. A place called Island Wool. It was a really great store. They had a great selection of yarns that I just can't seem to find locally. Yes, I did buy some yarn, but i don't have any pics right now. Anyway, after working up an appetite I hit one of the restaurants for some food. I did some more driving around & exploring, then headed to the hotel for the night & did some knitting.
Had another EARLY morning the next day. I decided that I was going to take one of the first ferries off the island, then drive down Whidbey Island & hit Langley on the way home.
Here's a pic of how tight they pack us in on the ferries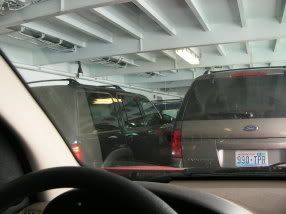 The drive down through Whidbey Island was really nice. I've always liked the drive, going over Deception pass...no pics of that, though. Everything was socked in with fog.
Speaking of fog, it did make for some really great pics
This was at Deception Pass State Park...
Decided to stop at another state park on the way...Cherry or Strawberry Lake...or something like that...yeah, I suck at remembering the names of places. Anyway, more pics of fog on the water...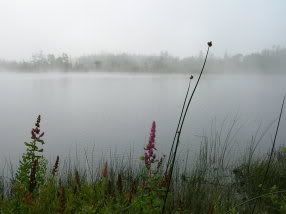 I hit Langley right around midday. The sun was shining by that time and it was great! I had really high hopes of finding some great things in Langley. It's a touristy little place with some cute artsy shops. Was trying to find a B-day gift for mom & wedding gift for my brother & his new wife. Anyway, no luck for anything for them....I, on the other hand hit the mother load. I found this little boutique that had great jewelry/purses/clothes. So, i got some earings, a cute little bedside box for my rings & then i got this
I don't think the picture does it justice...this has got to be the most beautiful purse that I have ever personally seen, let alone owned. It's like a work of art.
Anyway, got done shopping & made the final push for home..
Yup, that's right, one more ferry ride. This one only 20 minutes or so.
All in all, it was a good trip. Next time I'll check out Orcas Island & see what that's like.
Lots of FO's, WIPs & a Yarn crawl with some friends to Bainbridge Island & Poulsbo to talk about, but that will have to wait for another day.