Here we go again
Well, it's been, what, 6 months since I've updated the 'ol blog? Bad! Bad Neecie! That's what happens when life interrupts. I won't bore anyone with the details, if there's even anyone left out there to bore. Suffice it to say, I've moved in with a new roomate and it took forever to get decent internet service.
Now, on to the good stuff. Some FO's, but more UFO's, some of which I don't even have pictures of right now. *I'm totally rushing this post, just so i can get one done & get back to the baby blanket I have to finish!*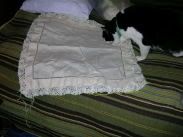 The above 2 pictures are of the wedding present/1st anniversary present for my brother & sister-in-law. Yeah, they eloped in June, hence the 1st anniversary goal. It's the lace tablecloth pattern that's in Handknit Holiday's. I LOVE it! I can't wait to see it when i've finished.


Here we have the Shoal Water Shawl that I finished a few months ago. I really like it. I used a couple of huge skeins of hand dyed merino that I got at a fiber arts festival.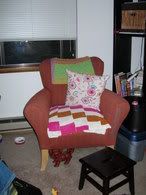 I've seen a lot of people posting pictures of their knitting space in the last few months. So, here's a quick look at where me and my knitting call home. I love this chair. I got it in the As Is section of Dania. See the little Foo Dog guarding the chair? I just got him from Target & i really like him. He's now my knitting guardian!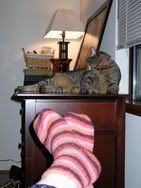 Here we have a picture of Quinlan (the cat) and one of my recent pairs of completed socks. It's a lovely striped combo from Opal and it's the first pair that I did a tubular cast-off on. I have to say that i'm totally hooked on the tubular cast-off. if you do socks toe-up then you have to give this a try. I used to have tight cast-offs no matter what i did, but doing it this way, i have just enough give to get them over my foot while still being tight enough to stay on.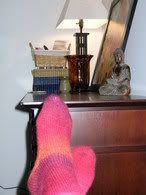 Another completed pair. This is using Trekking Stretch Boot, or something like that. I really like how the stripes turned out. They're so subtle when knitting them...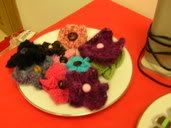 Knitted Flowers that I made for the girls at my SnB, for Christmas. I was working on them until the last minute...literally. BUT, they were a hit with the group!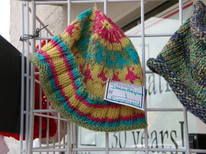 Last but not least we have my Astrodome hat, from Knitty. I did this hat for a hat knitting contest at the local Knit Out in the fall. All of the hats were going to be donated to the homeless when the day was over. Anyway, I won 1st place with this!!!! It was my very first attempt at any kind of colorwork & I will definitely be doing more. I don't have a picture, but I did the matching scarf for our gift exchange at the December SnB. I hear it has a very good home with Shelly, and her girls love it. Apparently one of them plays jump rope with it! =)
Next post will be before the Olympics. I have swatch pictures to post & I'll let everyone know what my plan is for my Olympic project.
CHEERS!