Knitter Down! Knitter Down!
Well! The Olympics haven't even started yet & I've been side lined by an injury.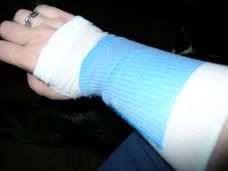 This is what happens when you work at a computer all day AND knit almost every night...No, it isn't a cool knitted arm warm that I'm wearing. That's an icy hot sleeve for my poor abused wrist. It started acting up today, so the trainers are having me ice it & rest it before the competition begins tomorrow. The hope is that with some good rest & the help of a wrist brace (still to be located) this athelete will be in tip-top shape by casting-on time tomorrow.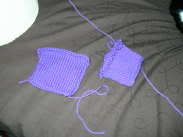 And, just to prove that I have done some training....here are my 2, yes 2, swatches. I'm going to be making Rogue & since I want this to be not only my first completed sweater, but one that fits, I'm following directions & swatching for knitting flat & knitting in the round. Good thing too...I had to go down 2 needle sizes in order to get gauge for knitting flat. I don't think the picture does the color any justice, but it's a gorgeous purple color with a darker purple mixed in...kind of a pseudo-tweed. Anyway, I think it'll be gorgeous & I can't wait to see how the cables start to look in it.
In sadder news, Mom called last night to tell me her Aunt passed away on Monday. She had been sick for a while & on dialysis. She finally just decided she didn't want to do the dialysis anymore as her quality of life was horrible, so she stopped last week. At least she had lived a full life. BUT, now I'll be going to a funeral on Saturday morning. It's still up in the air whether or not I make it to the Madrona Fiber Arts Fair in Tacoma this weekend. I read on her blog, that the Yarn Harlot is there & it would be fun to see the free demo/talk she's giving...oh, and there's the marketplace besides. =)
I'll post pictures tomorrow night of the beginning of the competition. Ciao!